You've come to the RIGHT place!
Welcome to Visionary Design Group - ONE source for all of your promotional products, printing, web design, hosting, and marketing needs!
Promotional Products are MORE than just pens and sticky notes! From batteries to mugs, cups to umbrellas, awards to apparel - every single item is a lasting billboard for your company!
Visionary Design Group is MORE than just another company selling promotional products!
We're here to find you GREAT products that truly fit your NEED. We'll sell you a pen, but we'll also ask you, "Why do you need a pen?"
"Have you thought about a STYLUS instead?"
"WHO are you going to had this to? Could they use something else instead?"
"This is the coolest thing ever - look at this (blank)!" (Seriously, we love finding new, cool, unique items and making sure OUR clients are the first ones around to get them!)
Why do our customers love us? We take everything personally - and NOT in a bad way! We take the needs of our clients to heart - we want to understand WHAT you need, WHY you need it, and HOW you need it to work. We're not just order-takers or slick-talking sales people (no offense intended, we actually have several in our lineage and we LOVE them to death!)


If you don't know what you want or need that is NOT a problem! Tell us what you are trying to accomplish, who are you trying to reach, what do you want to tell them, how do you want them to react - tell us anything! We'll put our best (craziest) minds to work and come up with something awesome!
What's up with the dog on the right side?
That's Suzy - she's new to our operation, and we thought she needed some face time and socialization. We like dogs, but no - we can't rescue anymore. It's very possible you might see us on the next episode of "Dog Hoarders" if we're not careful. We love them all, but there's only so much we can do. We do support a BUNCH of animal welfare organizations, check our LINKS page for more information.
Ready to go? Look around, click on everything, but PLEASE - if you have questions let us know! Email us : Design@VDGMail.com or call us : 615-237-1773 and we can talk it over!
Featured Item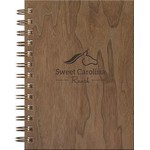 Wire Bound WoodGrain Journals - NotePad ...
Real wood front cover (available in Cedar, Cherry, or Walnut), mounted to Natural paperboard. Includes a 1-color foil stamp. 100 sheets of lined filler - blank, graph or dot grid also available. Natur...
$7.23 - $10.84