Pennington Promotions Inc
We have been successfully servicing our clients since 1987, and have produced products that have been featured in the NY Post and Martha Stewart's Wedding Blog.
What sets us apart from other distributors is our diversified product line, our creativity, our sourcing capabilities, and our diligence in catering to your customer service needs.We direct our attention to your specific promotional program and provide you with products that will fit your budget and target the audience you wish to reach.
Featured Item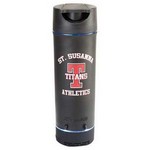 Zoom® Audio Flask
The Zoom® Audio Flask rocks out with an 18 oz. capacity to keep you hydrated. It boasts a removable, light-up, Bluetooth speaker that blasts your favorite soundtrack to keep you motivated and supports...
$35.98 - $45.33
What Our Customers Are Saying

To Whom It May Concern:With beloved characters like Elmo, Cassle and Sagwa, most people would assume developing items would be easy. After all, Sesame Workshop has some of the most beloved characters ...
Bill Burke
Director, Business Development