Welcome!

Welcome to Logos@Work based in Dayton, Ohio. We are a family owned and operated business that specializes in providing branded apparel, promotions, E-Commerce solutions and fulfillment services to businesses, schools, teams and events.
Originally founded in 1986 as Hooper Concepts, Logos@Work has grown to be a regional leader in creating unique custom apparel solutions. We have the unusual capability of being able to handle a client's needs from start to finish. Not only can we create the front end e-commerce solution for your organization, we also decorate all of our apparel in-house, and have 9 branded apparel and promotions specialist to help you solve your particular need.

Our central Downtown Dayton location is convenient to get to, and provides us with a great showroom where our clients can view the latest corporate and team apparel designs. Stop by and meet with one of our specialist and let us help you protect and nuture your brand.
Featured Item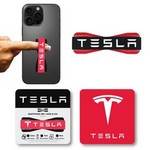 SlingGrip Phone Grips - Universal for De...
SlingGrip is a patented universal Smartphone grip that attaches to any phone or case to give secure one-handed control and extended thumb reach. Fits any phone or case with a peel-n-stick 3M removable...

Signature Showrooms