Featured Item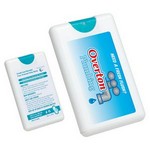 Credit Card Fresh Flush Pretreat Potty S...
Fresh Ocean scent odor eliminator spray. Environmentally friendly essential oils create a protective scent barrier on the surface of water to trap odor underneath. Pretreat toilet bowl with 2-3 spritz...
$1.75 - $1.95
Welcome to the new Life Care Centers of America Promotional Products site. D&S Promo/Petty Marketing have been a trusted promotional provider to LifeCare for over 20 years and we cherish the relationship. We are proud to have established this site to assist you in looking for products freely on your own. You can place orders from this system or request information for specific products. We will continue to forward mailers to you multiple times per year. We are always here to answer your calls, place orders over the phone and serve you any way we can! Thank you so much and we look forward to serving you!
-Staff at Petty Marketing/D&S Promo