Welcome!
If you reached this site, you need to click on the link below to access our home page and online promotional products catalog. Once you are on our site, please click on the promotional tab under the products link. If you have any questions, please contact us at 610.935.0800. Sincerely, Keystone Printing Group, Inc.
Click here to visit our website, www.keystoneprintinggroup.com
Featured Item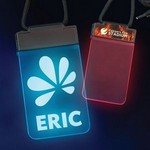 Deluxe Lighted Badge™ - 1 Imprint Loca...
Your custom artwork laser-engraved into a glowing acrylic badge. Choose laser engraving —or— a full color top appliqué. 7 bright colors selectable by pressing on/off button or continuous cycle through...
$18.00 - $33.25
Signature Showrooms