Gopher Services
Our quality promotional products are designed to help ensure the success of your business! Getting your name and information into the hands of potential clients is what it is all about, and nothing does the job better than promotional products.
Studies have shown that promotional products outlast most any type of advertising, such as classified ads, radio commercials, or TV spots, and have the ability to stay visible to your customers for many years. Whether your budget is $100 or $10,000, we have a vast array of products for you to chose from to accommodate your needs.
Featured Item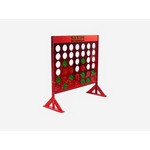 Giant Four In A Row Game (1 Header Impri...
Play Giant Four In A Row at your next promotion or tradeshow! This game will allow customers to interact with your brand in a fun and memorable way. 42 play pieces included with your custom color and ...
$985.00 - $995.00