Fusion Marketing and Events Inc.
FusionNY has a wide selection of promotional products, great prices, and a superb service.
Feel comfortable browsing at FusionNY site; you can find the perfect promotional product for all your needs. All personalized with your logo and information!
FM&E can create and develop innovative marketing and public relations strategies to achieve superior results for your company. Founded in 2004, we are affiliated with the leading companies in the promotional industry, giving us access to more than 80,000 products nationwide.



Featured Item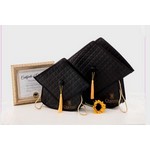 The Quilted Grad Bag - 17"x19"
Luxury Quilted Graduation Bag. The Grad Bag is a magnificent bag option for a school function event,college party celebration and educational fundraiser projects! It is the real bag with the real genu...