New York's Top Commercial Printing & Graphics Services

Welcome to Diverse Printing & Graphics, a commercial printing service for New York City (NYC). Our services include digital color printing, business forms, stationery, digital design and promotional printing. When you need a qualified printer in the New York area, please contact us for a quote.
As the name suggests, Diverse is a printing company with a wide range of specialties. We're based in Midtown Manhattan and our management team has more than 35 years combined printing experience. As members of ASI and PPAI we're constantly made aware of printing innovations and research before it's made public. Naturally, this gives us an edge – but as a client it gives you an advantage too. Speaking of clients, we handle printing jobs across the country, from coast to coast, so give us a call right now at 212-324-2400 to see how we could help your business!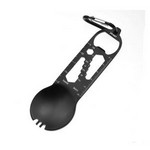 11 in 1 Multi Functional Spoon
The 11-in-1 camping kits include: bottle opener, ruler, metric ruler, spoon, fork, five imperial, metric wrenches, carabiner, flat head screwdriver, nail puller and bit holder. The compact design is p...
$4.46 - $7.42