Bell Printing & Design
Welcome to Bell Printings Promotional Site, Please take a look around and let us know if you have any questions.
Featured Item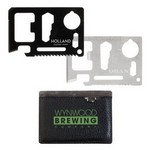 Grylls Survival Pocket Tool
This 11 function tool is the perfect gift for any occasion. Stainless steel construction and crammed with 11 tools into 1 credit card size that fits into any wallet. Includes a can opener, bottle open...