Dynamic Products
Here at Dynamic Products we focus on strengthening your brand image through strategic and creative selection of marketing products.
Products with your name and logo on them become the face of your company and it's reputation. We value brand image and believe the application of your logo to be a deciding factor in creating the maximum impact with the recipient.
You want to know that your products will be delivered on time – represented correctly – at a reasonable price. You want peace of mind, not a headache. You want to know that we will treat your business like our own.
What is important to you is important to us.
Featured Item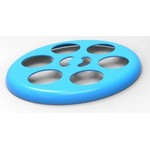 6 Cup Flying Disc Traybee Cup Holder
Cup Holder Frisbee has been designed for FUN & as well as to carry your cups. It can be used as a cup holder & can carry 6 cups or 4 cups. Our 14 1/6", 6 cups Frisbee is heavier than usual Frisbee Dis...
$4.15 - $6.00
Signature Showrooms