FrontRunner Promotional Products
This is your location to find all the products that you need to promote your company to reach your target market. Let us help you create the perfect first impression for all your future clients!
Featured Item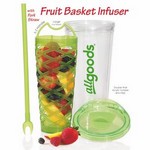 20 Oz. Fruit Basket Infuser Tumbler
Fruit Basket Infuser double wall acrylic Tumbler with fork straw. Bring out the best in your company's presentation and logo. Great for High Schools, Colleges, Cheerleading Camp, Dance Studios, Sport ...

Signature Showrooms