Featured Item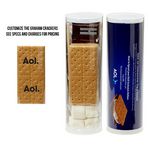 Small Campfire S'mores Kit Tube - 48 Hou...
This small campfire S'mores Kit includes 4 graham cracker sheets, 4 marshmallows, 2 Hershey's milk chocolate bars and 2 toasting sticks, which makes 4 servings. Cooking directions are printed on the b...
$11.83 - $13.08
Welcome!

Welcome to our new site! We have updated our site to accomodate your busy lifestyle. You can now research all the products you want, place your order into your shopping cart, upload artwork and check out at your convenience. Of course we are still here to answer your questions via phone or email. We will continue to give the best customer service possible while understanding that are customers are incredibly busy! When performing a search, give as much detail as possible to narrow the search, IE: "White sweatshirt imprinted." If you have questions on quantity - please do not hesitate to call or email. There are many items that minimum quantity can be reduced. In addition,... many items can be processed more quickly if needed for a special event. All items ship direct to you from manufacturer. We will keep you updated as to the progress of your order from day 1!
Signature Showrooms