Featured Item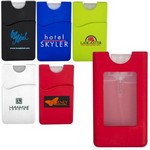 Silicone Wallet Sleeve w/Sanitizer - 0.6...
PP Plastic credit card-sized 0.67 oz. (20 Ml) antibacterial hand sanitizer spray in removable silicone sleeve with pocket for credit cards, transit cards and business cards. Features light citrus scen...
$2.35 - $2.99
Welcome!
This Web Express site offers ideas, options and seasonal items when you want your dealership to Get Noticed.
Contact your MADA Services Sales Representative for more information.