Featured Item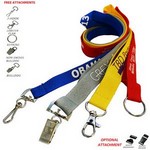 Lanyards 3/4" Polyester custom prin...
Polyester lanyards offer a near perfect balance of high performance product and a great low price. These are our most popular style of customized lanyards. Starting with top-quality polyester material...
$0.76 - $1.52
Welcome!
Welcome to Kish Printing's Promotional Products catalog site where you will find everything under the sun to promote your business or event. Browse at your convenience and make up your shopping list. We welcome your visit to our office where we can help you finalize any purchasing questions, or show you samples. .
Signature Showrooms