Applied Graphics, Inc.
We're glad you decided to visit our website. With over 20 years experience in the Promotional Products industry we are ready to meet and exceed your expectations. Our goal is to develop a relationship with you and not just become another "order taking" company.
We want to use our experience and expertise to help get your brand image in front of potential customers. We understand trust is earned, all we ask, is the opportunity to start a relationship so we can prove ourselves to you. Thank you and we look forward to working with you.
Please visit our Personalized Photo Gifts as well. We have over 150 personalized gift items that can be imprinted with a full color image and shipped within 1-3 days. Great gifts for special events and occasions when a Personal Touch is needed in a hurry. We have you covered!
Featured Item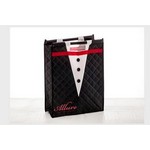 The Tuxedo Bag - 8"x10"
Luxury Quilted Bag -The Tuxedo is an impressive and unique themed bag that will transform your wedding celebration decor enhance your tuxedo party ambiance or create an upscale business conference and...